Reposted from [suda-masaki.com].
---
Best Picture: 『Aa, Kouya』 by Director Kishi Yoshiyuki
Best Actor: Suda Masaki for  『Kiseki -Ano Hi no Sobito』, 『Teiichi no Kuni』, 『Aa, Kouya』 and 『Hibana』
Congratulations to all awardees!
The results were announced on 28 November 2017. It was the first time that Suda received the Best Actor from Hochi Film Awards, and having 4 movies to be recognised at the same time. He was also the youngest actor to receive this award since its establishment.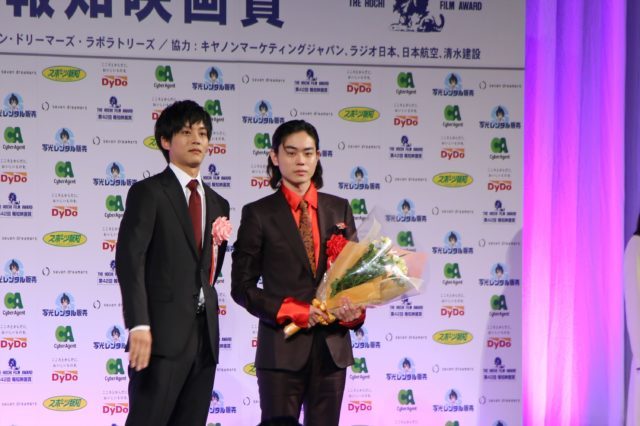 The award ceremony was then held on 20 December in The Prince Park Tower Tokyo. Matsuzaka Tori was one of the special guests, who handed the bouquet to Suda. During Suda's speech, he commented that it felt surreal (receiving this award) and an inexpressible sense of fulfilment. Matsuzaka wondered how Suda's schedule was like with 4 lead movies, 1 Taiga drama and 1 lead stage production, which Suda interrupted that they still shared the same manager.
Mezamashi
(password hint: the url of the homepage. change to the usual extension after unzipping.)
Sports Hochi also shared the almost uncut version of Suda's speech.
Nominations